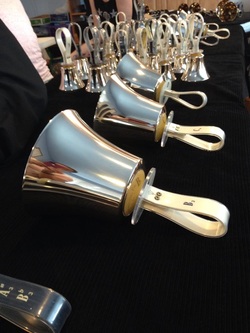 Mele Mai Paki Lima "music from plenty hands" and yes we really need all these hands, was founded in January 2007 by Karen and Dan Carlisle. We are an advanced handbell ensemble on Oahu. The intent of the group was to give handbell ringers an opportunity to ring advanced music and share it with the community. We have progressed into an educational handbell ensemble to help share the art of handbells and help support the handbell community on Oahu. Most of our ringers have played in church handbell choirs or are accomplished musicians looking for a new experience. We play a variety of music, classical, show tunes, Disney, secular, sacred and some top 40. We are playing on a 5 octave plus set of Malmark handbells, 6 octaves of Malmark handchimes and 3 octaves of Whitechapel handbells. We are very thankful for the talent and commitment of our ringers. Mele Mai Paki Lima is part of Handbell Musicians of America Area 12 (California, Nevada, Hawaii and Guam).

Join us on Facebook at Mele Mai Paki Lima Hawaii Community Handbell Ensemble.

www.facebook.com/HawaiiHandbellsHandbellMusiciansOfAmericaHawaii

Follow us on Twitter and Instagram.
---